For more than 20 years, I have had the joy and privilege of working closely with mid-market growth companies. Through these experiences, I've learned a ton. I've also had the good fortune of coaching Michael Praeger, CEO of AvidXchange, from start-up to Unicorn to IPO (AvidXchange had a successful IPO on October 13, 2021). It's been a 21-year journey that continues to deliver predictable results. Best of all, even with the battle-tested business framework, it's still magical.


The Key to Success
So what's the key to success?
You already know that there is no "easy button." But I do have Red, Yellow, Green, and SuperGreen buttons!
If you want to be successful, you must be vigilant. You must be well prepared because fortune favors those who prepare. Just like a tennis player, on the balls of their feet and ready to pounce on the ball and return it violently to their opponent, you must be prepared and anticipate the opportunities as they come across your net.


The Rhythm of Work®
If you are not prepared, you won't see the opportunities. If you are not prepared, you cannot anticipate the right response. And that is why fortune favors those who prepare and are ready to hit the ball violently towards their opponents. The key to being well prepared is to get on a repeatable and consistent Rhythm Of Work® to drive your growth goals. You need rhythms and a business framework to: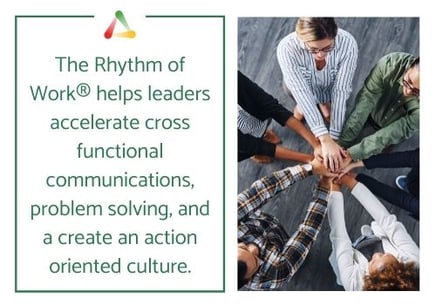 I've updated my book, which has helped hundreds of CEOs achieve their dreams and goals Rhythm: How to Achieve Breakthrough Execution and Accelerate Growth, available today and for the next seven days (through February 13th) for $0.99 on the Amazon Kindle store.
The original Rhythm book provided leaders with a solid framework called Think-Plan-Do. I've added a new chapter called the Rhythm Of Work®. This will inspire readers to get into a strong Rhythm Of Work®, critical for capturing opportunities and executing with excellence. This will also help you to further improve your think, plan, and do rhythms that you have in place today.
Michael Praeger has generously written the foreword, where he encourages us by sharing how he made the most important business decisions because of his amazing rhythm.
"This process... gives me a dependable way to organize the chaos that comes with a growing company. It has become our operating system—the foundation of how we run the business. While we may not know what lies ahead, whether crisis or opportunity, this operating system allows us to quickly identify, diagnose, and solve issues together as a team. We've improved from fighting fires to preventing fires. When fires do arise, this gives us a framework to stay calm, reduce anxiety, gain alignment, and fight for what we believe in as a team."
At $0.99, it's a fantastic opportunity to introduce all your team members to a common language for effective goal setting and cross-functional team execution to achieve excellence. Here is the link for you and your team members to pick up a digital copy of Rhythm this week as we launch this update.


Photo Credit: iStock by Getty Images