As we head into the end of the year, many leaders are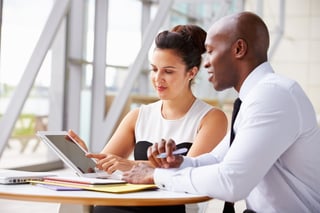 gearing up for more than just Annual Planning and holiday celebrations - many are brushing off their systems and processes for yet another round of annual performance reviews. According to a research paper from Gallup entitled Re-Engineering Performance Management,"Traditional performance management systems are broken. Companies, leaders, managers and employees have long participated in time-consuming, frustrating performance reviews that have not yielded clear improvements in individual or organizational performance." Ineffective annual reviews also hit your company's bottom line: "The cost of lost time spent on traditional approaches to performance evaluations alone is estimated to range from $2.4 million to $35 million per year for a company with 10,000 employees." It is time to consider ditching the laborious annual review process. But, many leaders aren't sure what to do in its' place.
According to Gallup, there are 5 top reasons that the traditional annual review process is problematic:
It happens too infrequently to provide meaningful, actionable feedback.
They typically use vague ratings or rankings that provide no clarity on how to improve.
They are perceived as unfair and heavily influenced by their managers' bias.
Negative reactions to performance ratings and rankings can demotivate team members.
The close ties to pay incentives for most annual reviews adds to anxiety and detracts from meaningful conversations about career development.
Clearly, there are some real problems with most traditional annual performance review processes. The very system that was initially designed to motivate employees to improve their performance actually has the reverse effect, demotivating team members and sucking up valuable time and resources from your managers and leaders.
However, skipping annual reviews leaves some unresolved questions for leaders:
How can we provide necessary feedback for employees, clarify expectations, and recognize accomplishments?
How can we create opportunities for them to reflect on their performance and future developmental needs?
What system should we use to make decisions about pay increases and promotions?
Gallup recommends re-engineering your performance management system into a performance development system in which your managers become coaches and offer ongoing feedback. They suggest "creating a culture of performance development" around three key areas: 1. establishing expectations, 2. continually coaching, and 3. creating accountability.
Here's how you can replace the aspects of your annual performance review with a new system that aligns with Gallup's recommendations:
Hopefully, this has given you some food for thought as you consider your own performance management system. Whether you go with a more traditional annual review process or shift to a model that's focused on continuous feedback and development, Rhythm is a great tool to support your performance management efforts.
Photo Credit: iStock by Getty Images