Have you ever seen a coach become so frustrated with a player's performance that he rushed onto the field, pulled the player aside, and said, "stand over here…I'm going to do this for you"? Even when frustrated beyond words – at the height of desperation - a coach follows the rules of sport and doesn't interfere with play. Additionally, it is against the psychology of player development.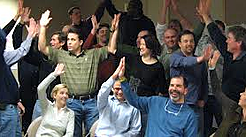 Coaches, even those that were once superstars, understand that when they figuratively change hats, take out the clipboard, and slip on the whistle, their job changed. Their primary function and value is assisting, even guiding, and perhaps "forcing" individual player growth and development. To succeed, the coach must create structured action plans with a clear mission, and offer practice and feedback that prepare the player to perform at their maximum level consistently and proficiently.
Executive teams that execute for growth face a similar dilemma. Any player that fails to move from doer to leader will never savor championship, gazelle-like success. In my years of working with championship teams, I've identified five common thought patterns that you may repeat:
Manage the vision, not the activity. For example, in annual planning we help teams create a vision but let the individual member manage their activities along the way. Prepare your players and inspire your team.
People are your solution – not your problem. When teams lose they fire the coach, and when a team fails, I help fast growing, competitive companies to look at their leadership. If people are missing assignments or execution towards your strategy, it's likely that you aren't utilizing talent wisely.
MOPT – manage other player's time. If your team works 8-hour shifts, then every successful member has 480 minutes in their workday. Of course, so does every failing member. As leader, do not waste your team's time. Manage your meetings, keep your team focused, and spend time building relationships. So, why does one fail when another succeeds? The long answer is too in-depth for this article, so I'll share the short answer solution – topgrading.
Stop doing and start growing. Create stretch goals for your team in 3-5 years, 1-year, and by quarter. Even strategically mature teams struggle with working "on" the business rather than "in" the business. Those that struggle the least aim players in the chosen direction and get out of the way. A coach that takes over for a player stunts that player's growth.
Shift your mindset to one of thanks. There was a time when the team that won the championship hoisted the coach upon their shoulders as recognition of leadership to victory. Today that may be the exception rather than the norm, but people haven't changed that much and want to play on a winning team. Perhaps they won't hoist you on their shoulders, but there is great personal satisfaction in winning at business. Shift your mindset to one of thanks for the opportunity to influence individuals to accept new challenges, to grow, to believe in themselves, not to be afraid to fail, and to experience the power of a winning team.
For further help in focusing your team, get your free electronic copy of Execute Without Drama. Follow the above five thought patterns and expect to transform your team.
Photo Credit: iStock by Getty Images