Summer is over, kids are back in school, and now it's time to turn your focus back to the workplace. Yes, I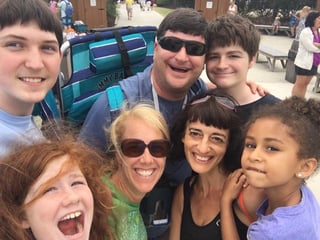 know it might not be as exciting as hanging out with your family and friends on the Isle of Palms to see rescued sea turtles released, but you know life's a beach and it is time to get back to work.
So, as I sit at my desk preparing for our second annual Breakthrough Conference this October 18 and 19 in sunny Charlotte, NC, I am researching the vast amount of KPI data and resources that we have here at Rhythm Systems. As a leading software and consulting firm laser focused on execution for mid-sized companies, we have helped our clients implement thousands of KPIs specifically tailored to their unique business situation. These KPIs help companies grow, recruit and maintain high-performance teams, increase operational efficiencies and much more.
I am going through all of the data to pull out the complex KPIs that help our customers grow with purpose. Too often, many people come up with their KPIs because they did a Google search, rather than really taking the time with a good Think Rhythm to analyze the metrics that will help them improve their specific business. I am putting the finishing touches on a workshop that will help attendees use Rhythm Software to Tackle Complex KPIs so they can get started with an analytics dashboard that will provide them the insight they need in order to maximize their business.
A sneak peek at the content we'll be covering in my Breakthrough Session:
Visibility: Are you monitoring the right KPIs to give you the insight and visibility into your company so that you can make the proper adjustments before getting blindsided?

Data: Do you have the right data in the organization available to the right people so that you can eliminate surprises and break down silos?

Adjustments: Use your KPIs to have the right conversations and make the necessary modifications to your business strategy execution needed to hit - and beat - your goals.
Don't worry if you aren't able to join me and the team in Charlotte and see our great lineup of speakers, we have lots of resources to help you get started. We have an entire section of our blog devoted to KPIs that is loaded full of great ideas and examples. We also have the Rhythm Resource Center that you should check out for many free tools on topics ranging including KPIs, Quarterly and Annual Planning, Strategic Business Execution, Weekly Meetings and much more.
Speaking of KPIs, the wonderful Sea Turtle Rescue program of South Carolina just released its 200th rehabilitated sea turtle into the wild, helping this endangered species recover. When the program started with a child's swimming pool and a single injured turtle dropped off at the aquarium, they never could have envisioned how many endangered animals they would be able to nurse to recovery while inspiring people to do more to help. I would call that SuperGreen!
I hope to see you in Charlotte!
Photo Credit: iStock by Getty Images