Managing the daily, weekly, and monthly workload is a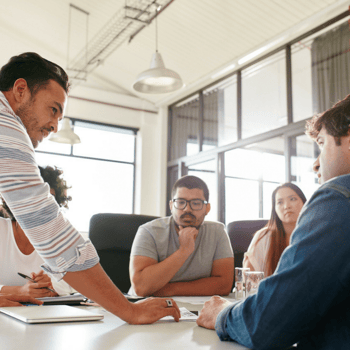 challenge for team members and leaders alike, but in very different ways. Teams have their KPIs and know what tasks they need to complete in order to achieve those goals. Team leaders and managers have the added tasks around team goals, team KPIs, other issues and other team projects that round out their to-do lists. The difference is that leaders have people to delegate to on their team that can complete the task. The challenge for any leadership style is finding the right person for job, and it doesn't always have to be you.
If your to-do list has gotten unwieldy or you need to reduce that list so you can focus on your BHAG, it's time to start looking at tasks that you can delegate to members of your team. Being able to delegate effectively will get you the results you need and empower and develop your teams along the way. Being a great leader involves leveraging all of the strengths of your team in order to complete specific tasks. Delegation is essential for successful leaders and their staff members.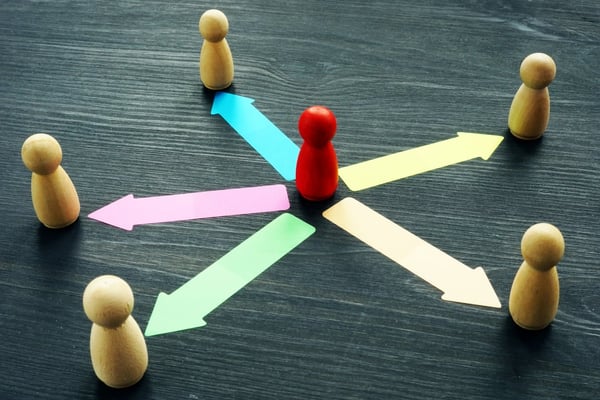 Done effectively, delegating tasks and projects to the team can show you a lot about your team's capabilities and talents. But the first step in effective delegation is recognizing that it's something you need to do. This is a big issue we need to tackle in order to delegate effectively — control. If done properly, the team member will view the delegated task as an opportunity for professional growth or increase their skills and abilities.
Read these statements and see if they are true or false for you:
I have recently been promoted to a leadership role, and I have to prove that I can still do all the things.
I would give this project to Jack or Jill, but I'd have to spend so much time explaining how I want it done, I should just go ahead and do it myself.
My peers are advancing in their careers faster than me, so I need to take on more to show management that I've still got it.
Jack or Jill might be able to do this, but I don't think they'll get it done in time because of other work.
No one else can do this project as well as me or as fast as me. This is my thing and this is what makes me indispensable.
The ability to delegate is something that I think about for every initiative assigned to my team.
I will ask better skip level meeting questions to find areas to delegate and develop future leaders in the organization.
All of the above statements point to levels of control that you need to check before you delegate a task. Leaders delegate tasks that another team member can do more effectively, isn't the top priority, to provide a growth opportunity, to create a culture of leadership accountability and more. It's particularly difficult to let go and let someone else take on a task that you're used to doing. If there's any fear that the person you delegate the task to will do it better, faster, or upstage you in the process, then you're missing a key opportunity to flex your leadership skills and a developmental opportunity for you and your employee.
Reality check — no one can do everything themselves, and even the best superstars need some help from career coaches. Here are three tips to help you keep calm and delegate on:
Delegation in Leadership — Delegate with Team Development Goals in Mind
As you set goals with your team each year or each quarter, you probably know their KPIs by heart. You should also know their development goals. Keep a visual reminder of those goals so you can look for opportunities to delegate based on your teams' strengths and weaknesses. Effective delegation builds team morale and is an important part of high-performance teams, no matter the leadership style of the manager. Delegating is the secret weapon that separates good from great teams, if you delegate to the right person!
Think about how delegating this task can help a member of your team learn or develop a new skill. Believe enough in your expertise and experience to then guide that employee through that delegated task or project. That will result in a win-win for both employee development and your leadership abilities.
Delegation in Leadership Set Clear Expectations
You can't assume that your team or employee is going to be able to read your mind. Effective delegation is not an email that says, "Here — take care of this for me, will ya?" Schedule time to walk through the project or task you are delegating. Be clear on what you need and when you need things completed. The desired outcome needs to be made clear in the discussion, and the employee should have the responsibility and authority to get the delegated work done. It won't be the exact way that you do it, but that's okay.
Ask questions for understanding. You want to make sure your employee understands what they need to do to get started. Remember that it's ok for them to have more questions along the way. They call it a delegation process for a reason; it isn't just a hand-off, it is a process that you work through together through the project.
This is also a great time to assess where you need to best engage during the project. If you hover, you run the risk of micro-managing the project which defeats the purpose of delegating it. If you ignore them until they complete the project, you may miss out on a critical opportunity during the process to provide redirection or feedback. It is the leaders responsibility to make sure the assigned person has all they need to be successful.
Delegation in Leadership Give Continual Feedback
Employees always appreciate genuine acknowledgment that their work is well-received and that they've done a good job. Be specific with them on what they did really well — that reinforces positive behavior and also establishes trust between you and your employee.
If there are things that need to be improved on for next time, take the time to talk through everything with your employee. Were all of your instructions clear? This is also a great opportunity for two-way communication. Leaders need feedback as well, and it's a powerful conversation to have when an employee can coach you on something that you're doing or not doing that would help them succeed. Take the time to listen, as you'll better learn how to delegate better in the future. Even if the project takes a little longer the first time around as you need to answer questions as part of the delegation process, in the long term you'll save time and increase team productivity.
Effective delegation isn't a way to offload the tasks you don't feel like doing, nor is it a way to clear the decks so you can leave early on a Friday. Remember you can't delegate leadership itself, effective delegation is using the power of your teams and their abilities to get results. It's seeing opportunities for members of your team to stretch their wings to learn something new or execute on a project. It's a way for you to share your knowledge and expertise to help that future manager or leader build new skills with the proper training and add bullet points to their resumes. It's also a sign of a well-functioning and healthy team.
Looking for more information to help get you started? Check out our additional resources:
A Real-Life Job Scorecard Example [SlideShare]
Use Job Scorecards to Build Team Accountability
Don't Get Stuck on Your Job Scorecard
Use Your Core Values and Job Scorecards in Your Hiring Process
How to Roll Out Job Scorecards in Your Organization
The Staggering Cost of a Mis-Hire: Use Job Scorecards Instead
The 5 C's of Team Accountability
Why Traditional Performance Appraisals Might Be A Big Mistake (And What To Do Instead)
Use Topgrading and Job Scorecards Together to Attract and Retain A Players
Rhythm Systems Employee Engagement Resource Center
Photo Credit: iStock by Getty Images
Photo Credit: iStock by Getty Images