At Rhythm Systems, we specialize in helping middle market companies achieve their dreams and goals.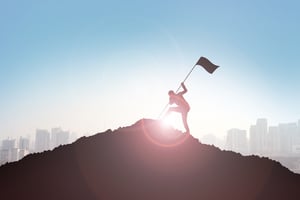 We believe that we can make a big impact on the world by helping our clients be successful in bringing their vision to life. We do this by using our methodology, experts and tools to help clients break through barriers and remove obstacles to their success.
In order to understand those obstacles better, we collected insights from over 900 CEOs about their biggest business challenges. We wanted to know what was keeping you up at night, and we found the results fascinating.
Top 10 Business Challenges Facing Today's CEOs:
Growth
By far, the most common business challenge reported is related to growth. CEOs worry about managing growth and growing predictably.
People
Next, CEOs are concerned about hiring, employee engagement, accountability, leadership and performance management.
Profit
Maintaining profitability and healthy cash flow is another very common theme from our middle market CEOs.
Sales and Marketing
Consistently delivering sales and marketing results came up frequently as a top challenge. How do you get the team to work cross-functionally?
Execution
Successfully executing new strategies, projects, and plans. How do you organize and lead the change initiatives across the company?
Alignment
CEOs also report that aligning business units and people is a significant struggle. Getting on the same page is hard and staying on the same page in the fast paced business world is even harder. You need a system to keep the team aligned.
Planning
Developing the right strategic plan for future growth and effectively facilitating an effective planning meeting were among the top concerns.
Communication
CEOs additionally reported internal communication and collaboration as significant business challenges. This is even more challenging during the times of remote work, where communication and alignment also suffer if you don't have an operating system for your business.
Focus
Focusing on doing the right things to achieve clearly defined results. Priorities often change with changing business conditions, but management doesn't get their teams focused on the priorities for today, causing lots of re-work.
Strategy
Developing and executing the right product, customer and growth strategies is also a top of mind as a challenge for CEOs. Many find extreme benefits in hiring a strategic planning facilitator for their expertise in getting an actionable strategy for the company and plans how to get there.
If you like this blog, be sure to visit our updated version of Biggest Business Challenges with fresh data.

In addition to these most familiar challenges, we also saw themes of consistency, scalability and innovation frequently come up in the responses. CEOs are bearing the brunt of the pressure to manage strategy, people and execution as well as keeping the company healthy, profitable, and growing. It's a tall order for anyone; even highly experienced and successful leaders have many of the same worries. If you are a CEO reading this list and nodding your head in agreement, know that you're not alone.
What's keeping you up at night? Is it on this list, or is it something entirely different? Please make a comment to share your biggest business challenge.
Additional Virtual Strategic Planning Session Information:
Virtual Strategic Planning Sessions: 7 Tips for a Great Strategic Planning Session
5 Best Practices to Manage Remote Employees
Learn More About Virtual Planning Sessions and Facilitators
How to Engage Remote Employees
How to Use Daily Huddles to Stay Aligned with Remote Teams
5 Steps to Having a Productive Virtual Monthly Meeting
The Anatomy of a Great Quarterly Plan (Infographic)
Rhythm Systems Quarterly Planning Resource Center
Photo Credit: iStock by Getty Images
Photo Credit: iStock by Getty Images
Photo Credit: iStock by Getty Images