Complacency is something that can rear its ugly head in any organization that doesn't build the culture and mechanisms to keep it at bay. A feeling of satisfaction of being "good enough" can creep into any organization after a period of success or the achievement of a specific goal. At Rhythm Systems, we work with clients every day to make sure that they are successful and constantly challenging the status quo and putting mechanisms in place for continual improvement.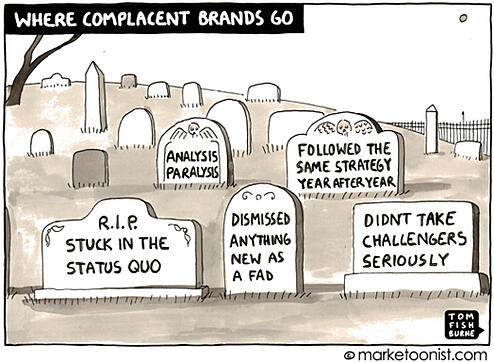 http://tomfishburne.com/2013/03/where-complacent-brands-go.html
There are a few key things that you can do in order to make sure that your organization is structured to battle complacency:
These tips will help you take the next step in your company to create the long lasting mechanisms that encourage growth and stimulate new ideas. Once the culture is created to support constant improvement your company, you will begin to notice a positive culture change with more engaged employees that have a new sense of purpose with improved involvement in the future growth strategy of the company.