I really enjoy learning during client interactions. When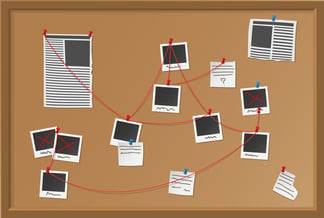 I'm working onsite in planning sessions, coaching executives 1-to-1, or working with teams virtually through Zoom web conferencing, I am often learning as much as helping. Working hand-in hand with smart people and fielding their questions give me the opportunity to guide participants while expanding my knowledge, understanding, and ability to communicate.
Recently, it happened again with a client in Raleigh, NC. After our planning session, I was emailed a question: "Barry, while I was bringing my management team through some of this, I realized I couldn't explain target versus KPI (Key Performance Indicators) very well. ... Could you tell me how we should think about these two concepts?"
I was pleased that this leader was cascading the plan to his team and after thinking for a minute, I realized that I often get some form of this question. This blog is an attempt to explain Targets vs. KPIs by giving you enough, without overwhelming. Targets and KPIs (key performance indicators) are both essential to any strategic annual planning session.
What are Targets?
Targets are future goals that you're setting/striving to attain. Often, this is a quarter or annual effort and sometimes strategic in nature. Targets are always results indicators (after the fact). I recommend 2-5 as sufficient.
You say, "That's great, but how do I determine targets?"
You can often determine targets by asking two specific questions in Annual or Quarterly Planning sessions.
Ask: What are our key financial targets or numbers for the year/quarter?
Ask: What other milestones are important to the business this year/quarter?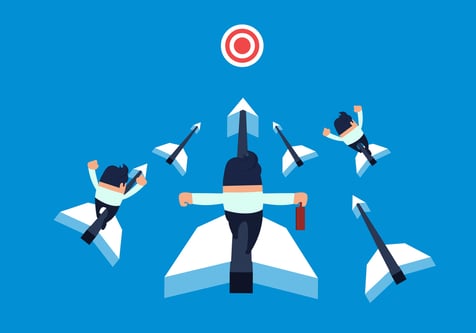 The answer to these two questions becomes a KPI that should be measured weekly (or monthly) during the quarter. As an example, let's assume that cash is tight. The team determined that decreasing accounts receivable aging is part of the solution. To continue the example, assume that our annual target is "A/R Aging (10 days or less)". and the current measure was 30 days for A/R Aging. Therefore, you might set the targets:
Q1 as green status = 25 days
Q2 as green status = 20 days
Q3 green status = 15 days
Q4 green status = 10 days or less
Measuring week over week, this approach gives you 13 opportunities to adjust to meet each quarter target, and 4 quarter adjustment opportunities to meet the Annual Target of less than or equal to 10 days A/R Aging.
What are KPIs (Key Performance Indicators)?
Key Performance Indicators are similar to the dashboard in your car - they give you the pertinent information for running your business day-to-day. You could measure everything in your department or your business, but it creates too much "noise" in team discussions, decisions, focus, and alignment. I generally recommend 10 or less.
You should look for a handful of metrics that are most important to your business' health and success. When you keep your team focused on these most important indicators, you can be assured that your business is healthy while you focus on new growth goals. The above example could be tied to a leading KPI for cash in the bank. You would know in advance if you were going to run out of money before you completed your new project or expansion or if you didn't find a way to accelerate collection of receivables. This allows changes in behavior just as a gas gauge on the car dashboard allows you to begin looking for a gas station when it blinks empty (but before you run out of gas).
Reviewing KPI performance weekly in a KPI dashboard enables you to understand the performance and health of your business – and allows 13 critical adjustments to achieve your strategic goals. Knowing and measuring the few right KPIs will help you achieve results faster with less "noise" and distraction.
Every company is different; once you've set your targets (result indicators), you need to determine your leading indicators. In Chapter 8 of the book Rhythm, Patrick Thean outlines a 4-Step Process for developing leading indicator KPIs: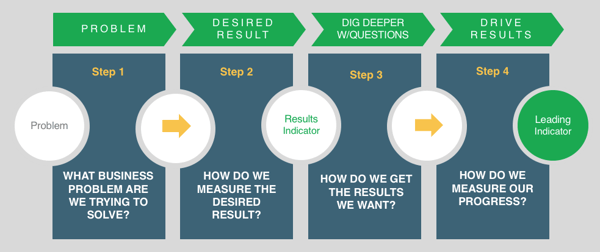 Be clear about the business problem you are trying to solve.
Be clear about the desired result. Set Red-Yellow-Green success criteria.
Dig deeper with questions to determine how you get the results you want to achieve. Most people don't ask enough questions.
Drive results by setting clear success criteria and putting your Leading and Results Indicators on a dashboard to status/discuss with your team every week.
The above is how you set Targets and KPIs appropriately. So, KPIs versus Targets are part of a Vast Conspiracy – you need KPIs AND Targets for the best growth plan.
Looking for more KPI Examples to help get you started? Check out our additional resources:
33 KPI Examples to Measure Productivity & Prevent Organizational Drag
25 KPI Examples for Manufacturing Companies
Key Performance Indicators for Employees
KPI Examples for Successful Sales Teams
Rhythm Systems KPI Resource Center
Photo Credit: iStock by Getty Images