Every quarter has thirteen weeks. It goes by fast. Before you know it, the quarter is over. And then the year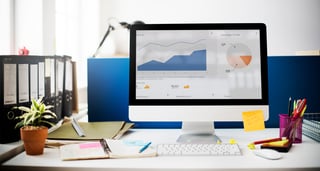 is over. You are left with the question, "Did we accomplish what we set out to achieve?"
Read this blog post about how to design and visualize your quarter like a 13-week race. You can also find this in chapter 7 of my book Rhythm.
Now that you have your 13-week race, how do you run it and achieve success? Unfortunately, nothing happens unless you do the work. To be successful, you need to do the work, inspect what you expect, and help yourself or your team makes the right adjustments to succeed.
Visual Dashboards
A dashboard is a perfect tool to help you communicate progress throughout the company and hold people accountable while preserving relationships. They should be used to identify problems that need to be solved and gather real insights about the company's progress. When dashboards are used well, you will speed up your execution and reduce mistakes.
Here are three tips to make dashboards work for you:
1. Get people involved with getting the right priorities on the dashboard with the right success criteria.
2. Make it simple - no more than a handful of priorities. If you have more than five, people get distracted, and the dashboard loses focus.
3. Use colors. I like red, yellow, and green. Color code it so that people get it quickly. Everyone knows red = bad and green = good. Make it super simple.
Use Dashboards to Solve Problems
Dashboards don't solve problems. People solve problems. Dashboards can highlight issues and be a triggering mechanism to work on problems while they are still small before they burst into flames and it becomes a firefight.
Status weekly on a regular rhythm. It is important to build the right habits around providing status promptly and using that to solve problems.
Use your dashboards to trigger pertinent discussions. Focus on solving one problem every week. If you can do that, you would solve fifty-two problems a year!
When people update the dashboard, put some thought into it. Think about why something is red or yellow or green, and provide some insights on how to solve the problem if it is red, or how to achieve your stretch goal if the status is green.
What if I have remote employees or multiple offices?
If you have remote employees or multiple locations, then you need a system that allows teams to collaborate on dashboards remotely, have robust discussions, and work both remotely as well as on their own time.
Photo Credit: iStock by Getty Images
Photo Credit: iStock by Getty Images