When it comes to selecting the right software for your company's performance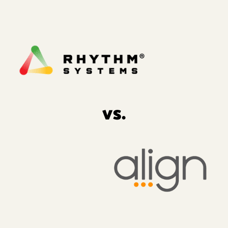 management and goal-setting needs, the choice between Rhythm Systems and Align Today is an important one. While both platforms offer valuable features, I'll share why Rhythm Systems is the superior choice for many organizations. We will explore three key factors that set Rhythm apart from Align: customization, training and support, and integrations. Also, we'll talk about the user experience aspect that has left some clients and coaches dissatisfied with Align Today. Let's dive in!
Customization: Tailoring to Your Unique Needs
Rhythm Software provides unparalleled flexibility when it comes to customizing labels, goal types, dashboards, and planning resources. This level of customization is particularly valuable for companies running Rockefeller Habits with specific modifications, as Rhythm allows them the freedom and flexibility they require. As a pioneer in the strategy management space, Rhythms' 16 years of development are evident in the robust options within the platform.

Training & Support: Ensuring Success from Day One
Rhythm Systems boasts the highest user adoption and client retention rates in the industry, thanks to its exceptional training and support. Their dedicated Rhythm Success Team has developed a comprehensive playbook that guarantees the successful adoption of the Rhythm Software. This playbook includes change management practices that are crucial for making this type of software implementation successful. With Rhythm, you receive thorough training on the software itself, and the habits necessary to maximize its benefits, and they even offer to run your initial weekly meetings to set best practices. This level of support ensures that your team is fully equipped to leverage the software's potential, leading to greater success in achieving your goals.

Integrations: Streamlining Data and Saving Time
No one enjoys the hassle of entering data twice or spending hours searching for the right information. Rhythm Systems understands this pain point and has developed seamless integration connections with thousands of enterprise software platforms. This means you can effortlessly pull data from financial systems, CRMs, product systems, and more, directly into Rhythm at the cadence you need. With automated goal status updates, Rhythm saves you valuable time, leaving you to focus on communicating progress, identifying areas that require attention, and making necessary adjustments. By streamlining data management, Rhythm empowers your team to work efficiently and effectively.

User Experience: Intuitive and Engaging
Beyond the core functionalities, user experience plays a vital role in software adoption. Several clients and Rockefeller Habits Coaches have shared their dissatisfaction with the clunky, difficult-to-use nature of the Align Today platform. In contrast, Rhythm Systems prides itself on offering a user-friendly interface and a seamless flow of usage. By providing an intuitive and engaging experience, Rhythm maximizes user adoption, ensuring that your entire organization embraces and benefits from the software. Rhythm provides a money-back guarantee on improving alignment within one quarter.


Selecting the right performance management and goal-setting software is critical to success in today's competitive business landscape. Rhythm Systems stands out from Align Today for several reasons. With its unmatched customization options, comprehensive training and support, seamless integrations, and superior user experience, Rhythm empowers your organization to thrive. By choosing Rhythm, you are investing strategically in a software solution that aligns with your unique needs and drives your company toward its goals. Check out what our users are saying on G2.
– Jarret Vaughn
Check out our pricing page here
Here are other blogs you might be interested in:
Goal Setting AI: Harness the Power of a SMART AI-Goal Coach
OKR Goal Setting Steps: The 5 Keys to Goal Setting
What is Strategy Execution Software, and Why do I Need it?
Why You Need Rhythm Software to Implement the Rockefeller Habits
Image credit: Rhythm Systems
Photo Credit: iStock by Getty Images