We've covered the first three subscription models from John Warrillow's The Automatic Customer: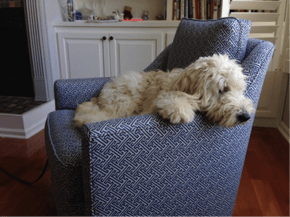 Creating a Subscription Business in Any Industry. In this post, we'll cover three additional models that might work in your business strategy to increase your recurring revenue through subscriptions. This post has a couple of the fun ones, but please promise not to tell my dog about them!
The Surprise Box Model ships a box of expertly curated goodies to its subscribers each month.
BarkBox is $20 per month for a curated box of treats, toys and accessories.

They call their customers "parents" rather than owners to better relate to their core customer, and source only from domestic suppliers.
It's a good thing my goldendoodle, Auggie, can't read or I would need to get this myself! In fact, he looks like he could use one right now.
Standard Cocoa has a monthly gourmet chocolate delivery for $25 a month. (Okay, I'll wait – everyone signed up yet?)
This Model is Best for:
A passionate, clearly defined market of consumers
A large and varied network of manufacturers that can offer a deep discount for a onetime order and have the capacity to fill it
The Front of the Line Model allows people to pay for or earn privilege.
Skip the counter and go straight to the special access line such as the TSA Pre-Check at airports.
Airlines, hotels and credit cards offer elite level memberships.
Many software companies offer a dedicated support line with faster response times for customer support.
If you deal with customers in person, consider offering special areas for them, such as the contractors desk at Home Depot or the bank that has a special teller for business accounts that can deal with their unique needs.
This Model is Best for:
Relatively complex products or services
Customers for whom waiting in line can have severe consequences
Non-price sensitive customers
The Consumables Model offers a subscription to items that customers need to replenish on a regular basis.
Dollar Shave Club offers a monthly subscription to one of its three types of blades with over 330,000 subscribers.
Diapers.com (since acquired by Amazon) replenishes all of the needed baby items on a regular basis so sleep deprived new parents can cross something off of their overloaded to-do list and never run out of the supplies they need.
Drift Away Coffee keeps the caffeine flowing with its monthly gourmet coffee shipments.
This Model is Best for:
A product that naturally runs out
Something that is annoying to replenish
With Amazon allowing this on almost all products now, you need to concentrate on branding to stand out like Dollar Shave Club with their now famous advertising viral videos.
There are multiple ways to turn your customers into subscribers. We'll cover three more in my next post to help get your creative juices flowing. Think these models over and see if there are any that are worth testing in your organization.
Photo Credit: iStock by Getty Images