As in the past many years, I entered 2020 with a full schedule of strategy and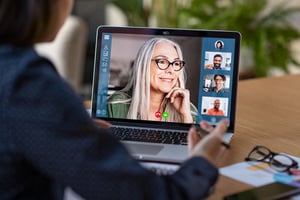 execution planning work with my clients. Then the pandemic hit, and I was not sure what that was going to mean and how I was going to take good care of clients. The good news is that nearly every session went forward virtually. Other consultants in our firm had the same experience. I give our clients a lot of credit for having the trust in us to run the sessions virtually using Zoom, and the courage to work with their teams this way. A couple of CEOs expressed concern and doubt up front, but they knew that moving forward with planning was mission critical; their teams needed to work on their strategies and develop strong execution plans that would ensure people would execute on the right priorities.
Luckily, we have been working with clients around the world for years doing strategy work, plan reviews, accountability and executive coaching, so we were already masters at using virtual platforms effectively. We very quickly worked internally to make a few adjustments to facilitate two- and three-day planning sessions virtually using the Zoom platform. Interesting enough, the results have been outstanding, and we have received feedback time and time again that these have been some of the best planning experiences the teams have ever had and that they developed some of the most detailed, focused and effective plans to date. I think part of the reason is that everyone is using video, and the setting is extremely intimate and focused. We have also found that most sessions run more efficiently.
Here are some of the tips we provide to our clients as we prepare for the meetings:
Send out the meeting invite at least two weeks in advance.
Ask everyone to download the Zoom App. It works a lot better and has enhanced functionality.
Make sure you are using the latest version of Zoom.
Ask participants to use a second monitor, if possible, to utilize the gallery view. This is part of what makes it intimate and focused.
Take plenty of breaks to keep the energy level up.
Be respectful, and try not to speak over anyone.
Consider buying lunch for the team even though you are virtual.
Click here to view the document we share with the invite for even more tips to make your meeting successful.
I have found that there is nothing you can't accomplish virtually that you can when planning in-person. I have facilitated work on long-term strategies by helping clients develop or refine BHAGs, 3-5 year strategies for growth and profitability, brand promise/guarantees as well as core purpose and values.
I have also facilitated numerous annual and quarterly execution plans. The plans are extremely focused, detailed and complete with outcome-based success criteria.
The Zoom format has also allowed some additional flexibility to break the sessions apart to allow time to work on the plans in between. This is particularly helpful when working on strategic items to give people time to think and do additional research.
Everything you read and hear about how we continue to do business will be forever changed. I agree, and although some things will go back to the way they were, others will rely on new approaches. That's innovation, and I love it! As nice as it is to get together face-to-face, it is not always necessary, realistic or cost effective. There will still be challenges as we go through the first few quarters of the year. Whatever you do, please do not put off your planning sessions. Using a platform like Zoom and doing your planning virtually will produce excellent results when you set the team up for success and have a good, experienced facilitator.
Best wishes for a successful 2021, and plan well. - Alan
Read our other strategic planning and facilitation articles below:
How to facilitate a Strategic Planning Session
Have You Validated Your 3 Year Strategic Plan?
Strong 3 Year Strategic Plans to Grow Revenue and Stay Competitive
16 Strategic Planning Tips to Keep Your Strategic Plan Alive
Don't Confuse Strategic Thinking And Strategy Execution Plans
9 Steps to a New Revenue Growth Strategy [Infographic]
Photo credit: iStock by Getty Images
Photo Credit: iStock by Getty Images