Scaling Up with The Rockefeller Habits with Rhythm Software
Rhythm Systems is the Best Rockefeller Habits Software to Focus and Align Your Team
Scaling Up Software
Rhythm Systems and the Rockefeller Habits
Best Scaling Up Software to Implement the Scaling Up One-Page Strategic Plan (OPSP)
Align Your Team Around a Single Vision with Software
In 2014, Verne Harnish released an updated version of his classic book Mastering the Rockefeller Habits. Thousands of entrepreneurs relied on the book's simple framework of the three Rockefeller Habits—Priorities, Data and Rhythm—to grow and scale their businesses. Twelve years after the original book was released, Verne and his team published Scaling Up: How a Few Companies Make It...and Why the Rest Don't, meant to provide updated examples and new insights on the growth tools so many companies found invaluable for over a decade. The practical framework of the Rockefeller Habits 2.0 and the tweaks to the classic One-Page Strategic Plan (download the OPSP template) are welcome updates for long-time fans and provided a platform for new business leaders to discover these growth tools for the first time.
Patrick Thean, CEO and Co-Founder of Rhythm Systems was there from the beginning and worked very closely with Verne to create these growth tool.
Our Rhythm strategy execution software platform was originally built to drive execution of the One-Page Strategic Plan and help companies whose growth has hit a ceiling of complexity that can no longer be managed on a piece of paper, much less one page. Rhythm has come a long way since then, and our platform is still the best software solution for middle market companies looking to implement the growth tools and ideas outlined in Scaling Up Rockefeller Habits 2.0. Rhythm Scaling UP software provides the system to act as the best entrepreneurial operating system to help you run your business and support your operational planning.
The Scaling Up book is organized around the 4 Key Decisions that leaders must address: People, Strategy, Execution, and Cash. Below, we'll use this same framework to show how Rhythm gives you the systems and skills you need to scale your business and implement the Scaling Up - Rockefeller Habits 2.0 framework.
Scaling Up People with Rhythm Software
Attract and retain A players with role and goal clarity
Verne makes the case that People is the first Key Decision to address because relationship issues can drain energy and sink your efforts with four strategic decisions regarding Strategy, Execution, and Cash. Using Rhythm Strategy Execution Software as your Scaling Up software solution, you can build accountability and clarify roles using Job Scorecards and creating KPIs for each role complete with clearly defined success criteria. You can use our dashboards for transparency and continuous feedback. Providing role and goal clarity and encouraging alignment and accountability using Rhythm will help you develop leaders and engage your team.
Here are a few of the major People topics introduced to us in Scaling Up that you will find in Rhythm's scaling up software: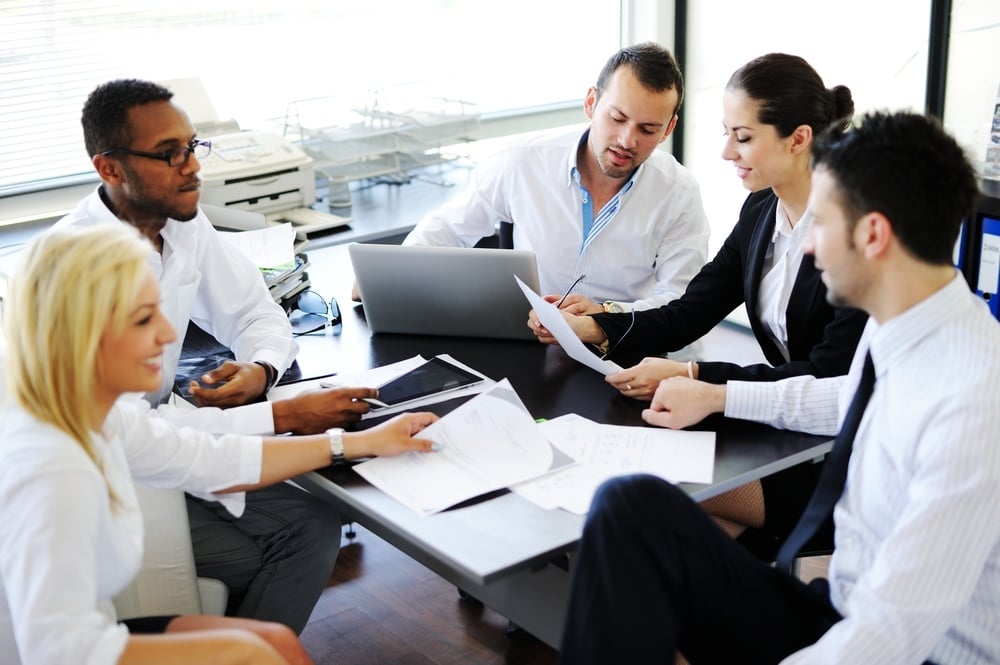 The Company Leadership Team
"'The bottleneck is always at the top of the bottle,' notes management guru Peter Drucker. Challenges within the company normally point to issues with, or among, the leaders."
- Verne Harnish
Verne addresses issues for top leaders with tools to help clarify personal goals and define accountabilities and outcomes. While this is a great place to start, at Rhythm Systems, we believe that the best leaders do more to create the right environment and bring out the best in their teams; after all, as Jim Collins teaches, the best vision in the world without the right people to execute it will not get you very far. That's why we've developed specific products and programs to support leadership development and team accountability. We believe that software alone is not enough to create great leadership. You need the right skills and the right systems to execute your strategy.